Meet Chris Parker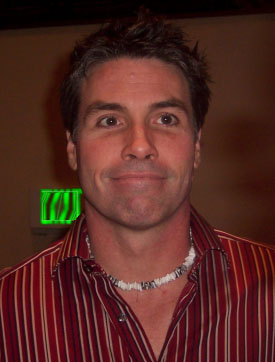 Chris Parker
Chief Forecaster - Marine Weather Center

Welcome to MWXC.COM where I share my passion for the weather with other boaters and now with you! I have been fascinated by weather from early childhood, and actively forecast weather each day starting in 3rd grade when I was only 8 years old.

In high school I broadcast widely-listened-to forecasts on WBSL, an FM radio station in Western Massachusetts, then studied Meteorology for 2 years at Lyndon State College in Vermont.

I am also a hanglider pilot. Hangliding helped hone my observational skills and practical knowledge of atmospheric lift/dynamics and micro-meteorology.

BOATING:
I gained much of my weather knowledge on the water. I began boating at age 11 with my dad on a 1960s "Cruise-a-Long" powerboat, and bought my 1st boat (a classic outboard-powered wooden launch) at age 12. I began sailing shortly thereafter, and sailed and/or raced on sailboats ranging from a Sunfish, Laser, Flying Scot, Lightning, and Star to various PHRF and ULDB racing boats.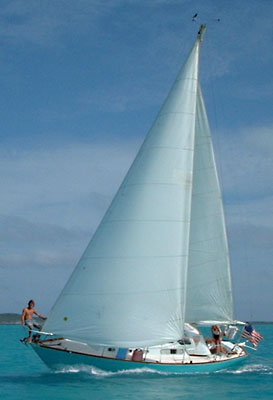 I lived aboard full-time for 12 years with my partner Michael Zidziunas and Wizard the cat, and we were full-time Cruisers for 5 years, visiting the Bahamas, Caribbean, Bermuda, and most of the US E Coast - first on our 1965 Cheoy Lee 30' ketch "Dragon Lady", then on our 1966 Morgan 34' sloop "Bel Ami".

We took pride in traveling an average of 5000 miles each year, while burning an average of about 50 gallons of diesel. We almost always sailed from place to place, and often sailed on & off anchor.

MARINE FORECASTING:
When we began actively Cruising during the winter of 1999-2000, we didn't think much about weather. Sailing in Miami in the 1990s, we thought nothing of crossing the Gulf Stream to Bimini or Lucaya for the weekend or a week's vacation. If it was rough (I get seasick easily), it was only for a day, and it was part of the experience. I probably crossed the Gulf Stream 50 times, and when we were "weekend sailors", we never waited for a "Weather Window", or changed plans based on weather.

But in January, 2000 we were caught several times by nasty Cold Fronts which arrived with no warning. Nasty weather surprises were not supposed to be part of retirement in paradise! Being a hard-headed "type-A" personality, I figured I had to be able to do a better job predicting weather than the forecasts I'd been relying on.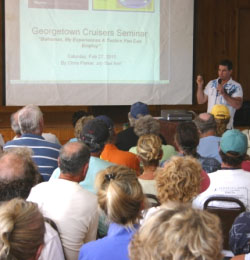 I began downloading and analyzing weather-fax charts and text forecasts, and generating a forecast for our use. Soon after, GRIB files became available and they were a huge help - providing precise (though not always correct) input. I also Beta tested OCENS WeatherNet and GRIB Explorer (I believe these OCENS products are so good that I'm a dealer for them, and still use them each day. Contact me if you're interested in consulting about your weather and communications needs).

When discussing plans for upcoming days with Cruising friends, the conversation inevitably turned to weather. Friends asked why we wanted a protected anchorage on a particular afternoon, or why we decided to go NE to Eluthera from Staniel Cay instead of continuing SE down the Exumas. I said our decisions were based on the weather forecast, and when the forecast I was using turned-out to be correct time & time again, friends began asking where I got my forecast.

Before long, friends were hailing me on SSB & VHF radios for forecasts. In 2002, I was a speaker on weather at a gathering of 300 Cruisers in Baltimore, MD (the SouthBound Cruisers Reunion), and have presented more than 30 seminars to various groups since.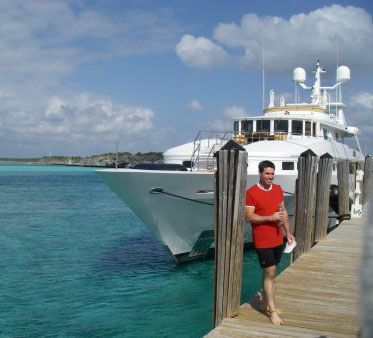 In late 2003, I was going to start my own weather forecasting service. Then, in November 2003, David Jones of the Caribbean Weather Center passed away, leaving a vacuum at the Caribbean Weather Center. I was Chief Forecaster for the Caribbean Weather Center from January 2004 through December 2010.

By early 2005, the Caribbean Weather Center (and my workload) grew to such an extent we were forced to move ashore (to Lakeland, Florida), where I had better access to fast, reliable Internet and could erect efficient radio antennas.

In late 2010, I started Marine Weather Center, to provide weather forecasting & routing advice mainly to small private yachts.

Next, please read my Forecast Philosophy